New Year and Christmas celebrations in the framework of the project "Weekend activities" in Lenin Square
January 4th,5th,11th,12th, 2019, 6 pm-8 pm
Multi-genre concert programs from Grodno collectives, the work of animators, a lot of festive music, round dances around the main Christmas tree of the city, as well as off-site trade will be prepared for you.
Follow the poster and the program on this website:
http://ckg.by
In social networks groups:
• Instagram: ckg.by
• Vkontakte:
https://vk.com/ck_grodno
• Faсebook:
https://www.facebook.com/centrkulturynews/
• Ok.ru:
https://ok.ru/grodnogorck
Contact phone numbers on issues regarding organization and participation: + 375 152 72 06 94
(Department of Culture of the City Executive Committee, Grodno, Lenin Square, 2/1),
+ 375 15 268 20 20, + 375 152 68 48 57
(State Institution «Grodno City Cultural Center» Popovich str., 50),
e-mail:
This email address is being protected from spambots. You need JavaScript enabled to view it.
,
This email address is being protected from spambots. You need JavaScript enabled to view it.
*Changes and corrections in the program are possible due to weather conditions. Specify the information on the above phone numbers.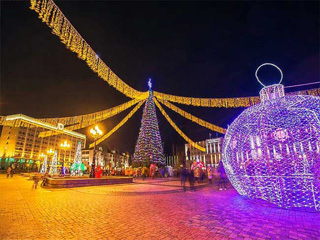 .